Li Linhong was born in Guangxi, Guilin, the famous contemporary painter, a member of Guangxi Artists Association, Li Linhong concentrated landscape painting, can be said to be the highest realm of human and nature all blend into one harmonious whole, large cunca, coherent, and write and draw freely as one wishes, full of clouds, a majestic and gas. The simple and natural painting style, the magnificent atmosphere, the strong No Itsuo, and the unconstrained spirit, embody the full talent and spirit. Don't jump out of the secular, unremittingly, is disturbed by noise. Ink shades of cunca, Li Linhong's novel conform to no conventional pattern, the landscape painting is full of atmosphere in Taoyuan, formed a landscape art of their own unique characteristics, elegant rhythm!

>
teacher Li Linhong landscape painting is like reading a poem, Chinese painting landscape painting, landscape painting is not called, because of Western landscape painting pays more attention to the transport of light and shadow with skill to perform projection on the retina, trying to be in high fidelity forms on the canvas, is a more biased in favor of the pursuit of imagery and sensual beauty of painting.
Li Linhong's landscape painting DaoBuMing spirit and charm in said can make a person see behind the painting painted features belonging to the motherland mountains and rivers of the aura.
Li Linhong's new book "green painting banner eight feet long"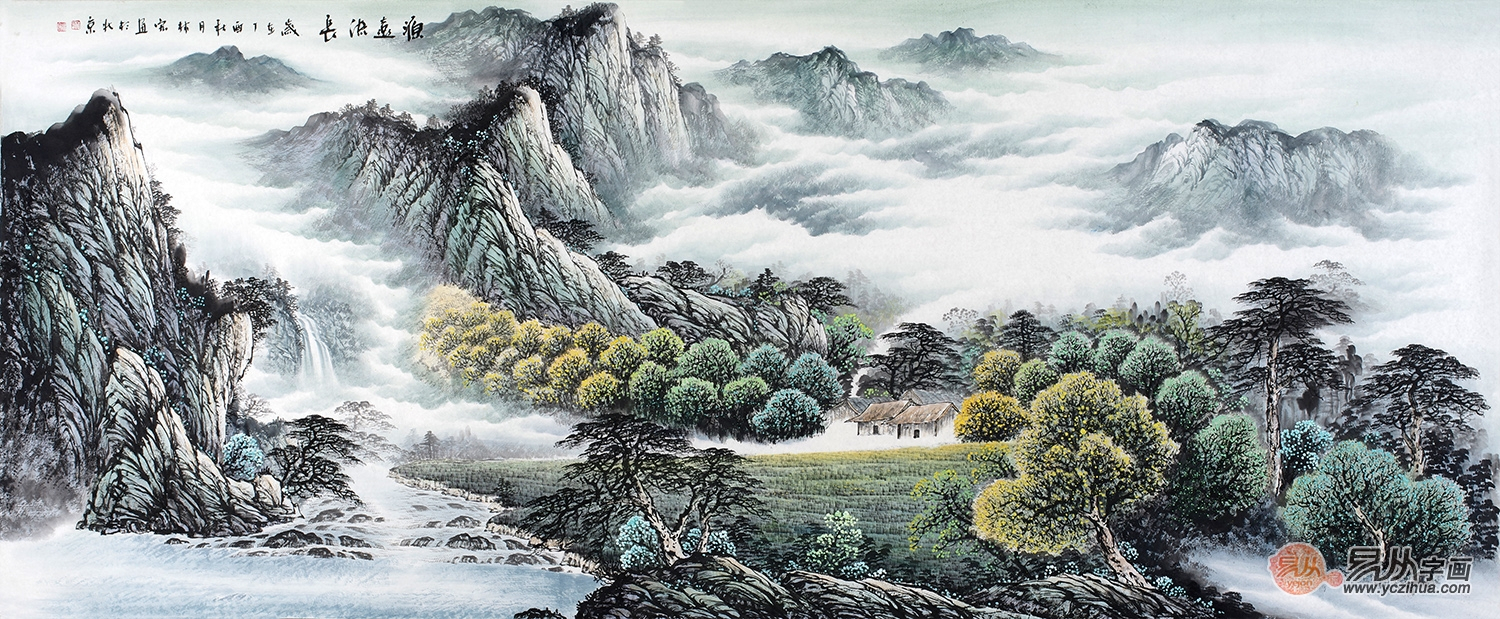 was full of Castle Peak clean, spring breeze around the clouds. In the mountain green world, the spring scene in front of the court is intoxicated.
Li Linhong has a long history of Chinese painting "green", showing the beauty of silk, clear such as training, a wide expanse of mist-covered waters, such as Ming Jing eyes, the waterfall flows by Tao fold surge; spring gurgle, brook, splash Feizhu, light illusion; plants swaying, calming in that a subtle and intense one a flying. The beauty of Lingshan, lies in the towering, overlapping peaks; in Yunmeng trees, mist flow stream valley, Greenwood Sunwind, white water shock is lush vegetation, Jian; vitality.
is now the lack of urban life is a pastoral landscape of the music, a spring breath blowing, near to defrost the land, such as just wake up children, open our eyes, feeling the warmth of spring, lonely winter trees, to dark or light green covered, free and lively, flexible and harmonious.
in Li Linhong's landscape painting is a kind of painting from the realm of philosophy and Zen to depict the charm behind the landscape, and it's a kind of pursuit for the mind.
living room painting paintings "Wanheqianyan antithetical couplet Li Linhong hall"
all things are contented contemplation, and people with Jiaxing four. Li Linhong's landscape painting is rich in artistic charm. Not unrelated to the Zen poetry and painting: "deep in your meditation, came to the nine day. The past like yesterday, fine of mountains and said the song and Yuan dynasties." Li Linhong's landscape heavy interest ink pen, express individuality, by blending, water and ink permeation, scouring and create a fresh, quiet and light leisurely atmosphere, more appealing, in the wet and dry, wet and soft, light but not Jane, people always stay in the quiet realm of nothingness in the choice: "by people not by the day, and some general leisurely. They formed an unusual thing, no man xuan."
Li Linhong to focus on life science on the landscape, through the spiritual landscape and enlightenment can often touch the sermon, the picturesque scene, make people feel the boundless deep quiet, yet heavy Wordsworth, Qiyun filling. His landscape is permeated with a kind of pure anger, a heaven and earth, a harmony between man and nature of communication, an emotion and mood.
teacher Li Linhong do by heart lead phase, your heart is emotional sustenance in the landscape, and then rubbing on paper, a successful landscape painter of contemporary absolute strength.
garden sofa backdrop paintings Li Linhong water for "Spring Hill"
Li Linhong is a typical southern landscape ink painting style, painting scenery and charm, elegant and natural flavor, showing a dense Wordsworth, clear pure and elegant style, form a significant contrast with the vigorous steep, dry autumn of the northern landscape, and also make the wind very popular is different. Born in Guangxi, he has been to Jiangnan elegant and pure natural jade deep in his white walls and black tiles, a landscape of lakes and mountains, bridges.