New Year approaching, the performance of listed companies notice gradual disclosure of performance shares surge or will become the market focus. Data statistics, by the end of December 21st, 3480 companies in the two cities have disclosed the annual report performance forecast, the announcement of disclosure is basically completed. And with the end of the annual report, the performance battle will be again.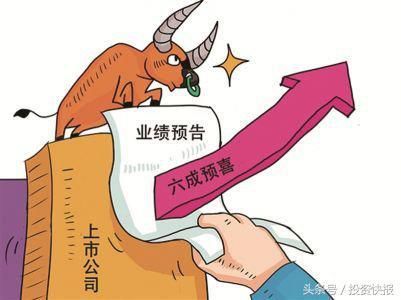 6 shares net profit changes over 10 times the biggest winner Berry gene
(yslcw927) according to the sound financial sort of data show that a total of 6 listed companies annual net profit is expected to increase by more than 10 times, the biggest Berry pre gene, gene Berry since the implementation of major asset restructuring is completed the backdoor, Beijing Berry and Kang Biotechnology Co. Ltd. financial data merger, the company expects 2017 net profit of 230 million yuan to 260 million yuan , compared to the same period last year to achieve profitability , the growth rate of 5589.26% to 6305.25%, it is the only one pre increase more than 50 times the company. The rest of
auto, Ningbo Dongli, Letong shares, shares, Fenghua shares in zhe five stock yejiyuzeng also were more than 10 times.
the following is forecasted over more than 5 times the stock statistics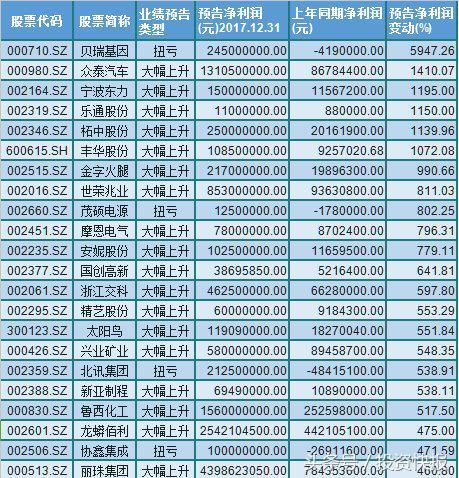 multibaggers together 5 industry 5 shares of potential
is expected from the net profit, 10 listed companies net profit is expected to more than 1 billion yuan, including ZTE, Lizhu group, Kimberly, Joincare, longmang steel Minguang forecast net five shares profits are more than 2 billion, otherwise the Huaneng hydropower, Luxi Chemical, Ganfeng lithium, Zotye automobile, ST peak 5 shares forecast net profit of over one billion yuan.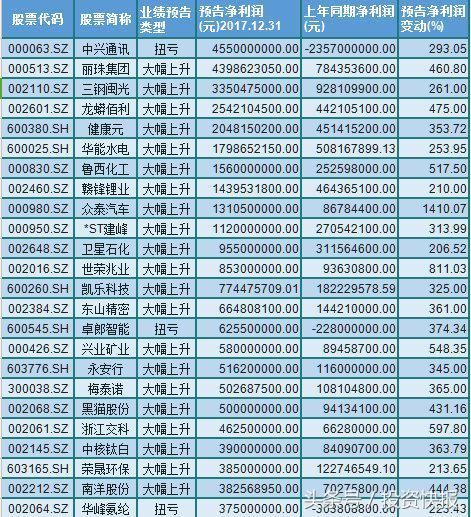 in addition, net profit is expected to increase from , more than 70% listed companies this year is expected to achieve net profit growth over the same period last year, of which 182 listed companies net profit growth is expected to double. data show that the 182 listed companies of are mainly distributed in chemical industry, machinery and equipment, electronics, electrical equipment and non-ferrous metals industry. The 5 industries account for more than half. The largest number of Listed Companies in the chemical industry, 32, followed by the machinery and equipment industry.
5 shares is expected to profit 10 billion yuan
in addition, net profit is expected from the median, and another 5 listed companies is expected to profit more than 10 billion yuan, respectively, Chinese Shenhua, Daqin Railway, conch cement, Baosteel, China Merchants shekou.
below is a forecast of performance change, which is listed in the first stock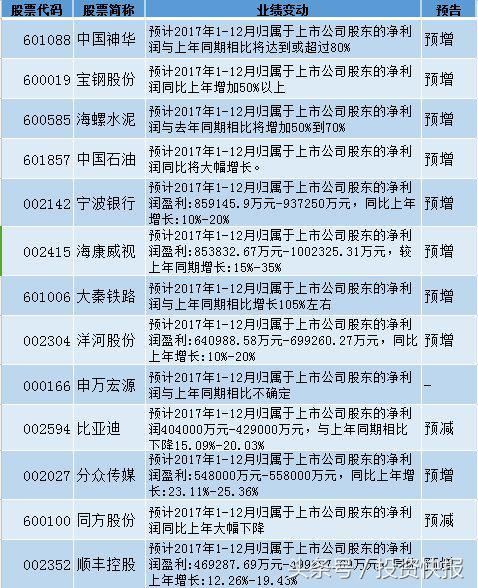 data. shows excellent performance in Luxi Chemical Industry, which has risen 190.70% in the first place in the year. since 2016 since June, the stock opened the round Manniu market is expected to surge high and sweep forward, and other growth stocks will also take turns performance.
(all of the above data are derived from flush, analysis for reference only, and does not constitute an operational proposal. " Take care of position control and risk conceit, such as self operation.
)